The aim of this page is to provide a focal point for anything which can help the EVOKE community collaborate more effectively. Please add anything you think may be useful!
Community Collaboration Building Project
[
]
A project team has formed to help expand the Evoke network's collaboration tools. The purpose of the project is to create, improve, and promote community collaboration tools. The project leader is, Evoke [Agent] and Mentor, Andrew Perry, who is also maintaining the project homepage.
Thus far, the action steps for project include:
Create - Page templates and content on the evoke wiki. (this was suggested in a discussion (here)
Improve - Community tagging standards (bellow)
Promote - Evoke facebook group (here) - Evoke Zotero group, a collaborative research notebook (watch video here, join the group here)
Facebook
[
]
A list of EVOKE-themed facebook groups :
Uses
Facebook can be used for:
mass messaging (to all members of a group)
organizing events
sharing links/pictures/videos on the wall
Standardised Tag System
[
]
This has evolved into the StandardTag Directory - featured on the EVOKE Blog.
This grew from the following discussion thread: [1]. So the idea is to start a standard list of tags to make clustering of similar or related content more effective than it is currently.
The suggested format is to keep the Game related tags as UPPERCASE (for Missions etc), but switch everything else to ThisFormat (so no space between words and each word with a capital letter). Avoiding spaces prevents the tags being listed separately and should make searching more accurate.
Zotero
[
]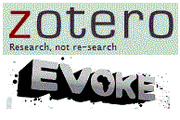 Zotero [zoh-TAIR-oh] is a free (and opensource), easy-to-use Firefox extension to help you collect, manage, cite, and share your research sources. It lives right where you do your work—in the web browser itself. Evoke Agents can create an account to keep track of their Evoke research individually or alternatively (and highly recommended) join the Zotero Evoke Network group to collaborate with others in collecting and sharing information.
Evernote
[
]


[2] Evernote makes it easy to remember things big and small from your notable life using your computer, phone, and the web. Get started today with a free account. Capture everything. Chances are, if you can see it or think of it, Evernote can help you remember it. Type a text note. Clip a web page. Snap a photo. Grab a screenshot. Evernote will keep it all safe. Kevin DiVico 05:34, March 16, 2010 (UTC)